We offer complete car care service from routine dealer recommended maintenance to complete diagnostics and full service auto repair. We know that our reputation is built "one customer at a time" and we appreciate your business.
We are a full service Auto Care Center. Locally owned and operated by Danette and Jim. We are YOUR neighborhood Auto Care Center, committed to making your safety and needs Priority ONE when it comes to your vehicle!


Whether it is an oil change, brake job or tune-up, we will fully inspect your vehicle to AVOID costly repairs later on and firmly believe in preventative maintenance on your vehicle.


MISSION STATEMENT....To educate each and every guest ( yes, you are our guest) about their vehicle in order to prolong the life and safety of their car. To give a fair and competitive price on all work provided.
Done Right. Period. That's how we do things at Tuffy Tire & Auto Service Center. That's why only Tuffy offers a 2-year/24,000-mile guarantee on parts and labor you can take to any store. Plus, we offer a courtesy inspection with every Tuffy purchase. It covers tires, brakes, fluids, exhaust system, battery, belts and more. With every purchase, we even give you 12 free months of roadside assistance, too. We call it ToYourRESCUE®. Our work will be Done Right. Period. Or we'll fix it for free. Now that's what you call Tuffy totally having your back.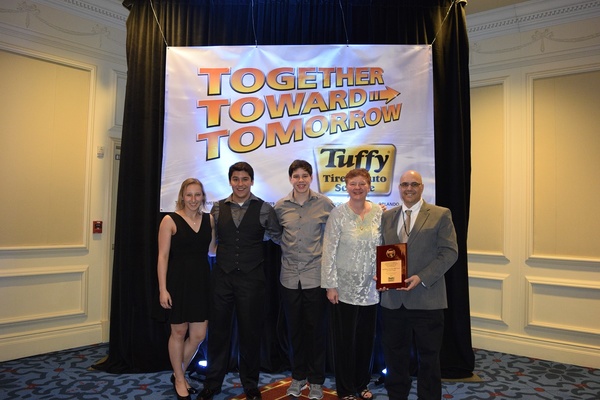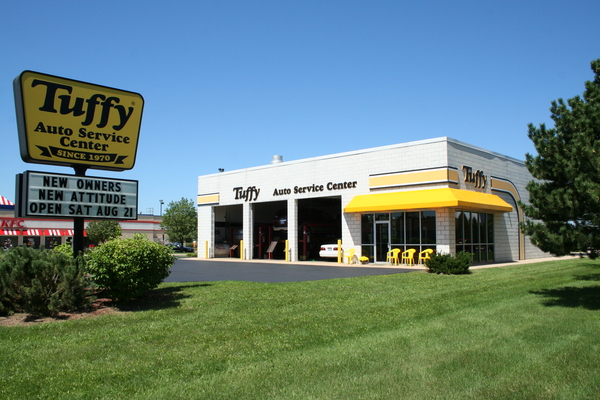 "Went in for oil change but car hard rough start. Need a new battery. I have been with Tuffy for 6 to 7 years now. Great people and place. Reliable, honest and charges for repairs are priced fair. "

Debbie Giardini

Jan 19, 2021 – Rockford, IL
"Only place I trust to get the job done right. Honest, kind and reliable."

Jay Moss

Jan 10, 2021 – Machesney Park, IL
"GREAT PEOPLE, GREAT MANAGEMENT WE WILL ABSOLUTELY GO HERE FROM NOW ON. BRIAN AND DIANE RUSH "

Brian J. Rush

Jan 09, 2021 – Rockford, IL
"If I said this group of amazing mechanics were any less than lifesavers, I'd be lying. My mom and I are traveling, and noticed steam coming from the hood and that unique smell of coolant. Not being from the area, we had no clue where to go for quick and reliable service. A search of Google said we were close to Tuffy Auto Service. After a quick call and explanation, we headed over! After a quick chat with the man at the counter, not only did they promise to fit us in as quickly as possible, they were understanding about the 5 teacup chihuahua/min pin dogs that we had in tow. My dogs are NOT well civilized or socialized. We weren't there more than 5 minutes and the car was already being taken in to be checked. The repair ended up being a new radiator. WOW!!! What a thing to happen when you are traveling. While they were working on the repair, they were kind enough to let us use a courtesy car to complete the errands we needed to do. We are sooo thankful!! Doug had even fed my dogs a granola bar!!! How cute, sweet ,kind and thoughtful of him!!! On our way back, we stopped and got all the guys in the shop some donuts as a thank you. They got us in fast. They dealt with my very noisy dogs with patience and kindness, AND they completed the repair in record time!!! Under 3 hours from when we called for the WHOLE thing!!! If you need your car fixed, and want an awesome, reliable shop with a GREAT bunch of people, PLEASE PLEASE do yourself a favor and check out Tuffys. Btw, the car runs BEAUTIFULLY!! She's purring!! "

Christina Chapman

Jan 09, 2021 – Saint Michael, MN
"Those TUFFY Guys on Riverside Blvd, Love Park, IL are a Pleasure to do Business with. Their Quality of work is Exceptional and I have a feeling of Confidence taking my Car there for Service. As a Senior where to go for the Servicing of my Auto is no longer a concern for me. Happy New Year TUFFY! "

Patricia P

Jan 05, 2021 – Rockford, IL
"Great service "

Jimmie Rogers

Jan 05, 2021 – Machesney park, IL
"Great service and reasonable prices, as always!!"

Cindy Lawson

Dec 24, 2020 – Byron, IL
"I was out running errands and my engine light came on, it's never come on before, so I immediately drove over to Tuffy's to have it checked out and they were able to get me in quickly and they did a diagnostic test and found an issue and they suggested the most efficient and thorough way to resolve what they believed was causing the issue and I completely trust thier word and thier knowledgeable assessment and they resolved my problem quickly and I was on my way, another satisfying experience at Tuffy's. Thank you. They are friendly and honest and I never hesitate to go there. "

Kurt Burnside

Dec 19, 2020 – Rockford, IL
"Thorough, courteous, no pressure, reasonable prices."

Karin Young

Dec 18, 2020 – Rockford, IL
"Staff was very friendly and work was done in a timely manner. Front desk was wiping/cleaning through out my wait which is always reassuring and the mechanics were very nice and patient while talking me thru the issues for my vehicle. Unless I start to see oil leaking in the next few days- I would deff recommend! "

Desiree Perez

Dec 18, 2020 – Rockford , IL
"Thank you so much for the great and fast service. You have amazing staff !"

April Craig

Dec 15, 2020 – Roscoe, IL
"Thank you, Tuffyrockford is friendly, trustworthy, efficient, knowledgeable, well priced, went beyond our expectations and they will get all our business eventhough they are way across town from where we live because I want to have peace of mind when I drop my car off that it will be treated correctly and efficiently and I have that peace of mind here at Tuffyrockford, thank you again. "

Kurt Burnside

Dec 12, 2020 – Rockford, IL
"EXCELLENT AS ALWAYS! We ran into a few leaks on our recently purchased used vehicle and Jim and the gang found multiple issues but saved us the cost of what could have been the worst and most expensive problem. Merry Christmas and Happy Holidays to all of you!"

Marty & Debbie H

Dec 12, 2020 – Loves Park, IL
"Always professional and friendly. They stand behind their work. "

Angela Barber

Nov 13, 2020 – Loves Park, IL
"Knowledgeable and efficient. Always feel safe and secure when going to Tuffy. "

Gary Lawrence

Oct 27, 2020 – Loves Park, IL
"Excellent customer service. Took the time to explain everything and why it was important to replace. Offered me a loaner car! Very impressed. Everyone working there are polite, friendly and knowledgeable. Definitely will Be back and will definitely refer people to them. "

Christopher Greenwood

Oct 27, 2020 – Cherry Valley, IL
"Good service "

Pamela Craig

Oct 27, 2020 – Rockford , IL
"The Tuffy Riverside team got me in and out quickly. Quality service at reasonable prices. Taking the COVID situation very seriously as precautions and protocols are in place which I really appreciate. "

David Mrowiec

Oct 23, 2020 – Rockford, IL
"Thank you , Great Customer Service and Gerat work. "

M Trammell

Oct 23, 2020 – Loves Park, IL
"I have never been treated with so much respect and kindness. They did a great job on my car and they showed me exactly what was wrong. I now have a new place to take our cars! I am very impressed!"

Diane Hill

Oct 18, 2020 – Poplar Grove, IL
"Just great service on such short notice"

Joseph G

Oct 11, 2020 – Loves Park , IL
"Thank you for your friendly, perfessional and informative service helping us to keep our vehicles maintained, safe and moving down the road without unwanted interpretations. "

Kurt Burnside

Oct 05, 2020 – Rockford, IL
"The technician was very thorough with replacement of the front brakes."

Joseph Garcea

Sep 23, 2020 – Loves Park , IL
"Our experience was fabulous!! Everyone was so friendly and efficient!! Would absolutely go back if we lived closer. Doug helped us out so much and made the process a breeze! Thank you all!!"

Mackenzie Starkey

Aug 22, 2020 – Bloomington, IL
"My first time at Tuffy. Everyone was so helpful and friendly. I will definitely come back In the future for any of my cars maintenance "

Lisa Halberstadt

Jul 21, 2020 – Rockford, IL
"Always a good experience at Tuffys! And goodies too!"

Dave B

Jul 15, 2020 – Rockford, IL
"I had just got an alternator replaced by a competing business in the area. Issue was not fixed. Tuffy came in and not only fixed my issue but gave me a bunch of incentive to come back. Thank you!"

Justin Glass

Jul 03, 2020 – Rockford, IL
"Shout out to a great experience at the Rockford location. Sue, and the team went above and beyond my expectations making me feel valued as a customer! I will definitely be using them again and will suggest them to friends and family! Thank you for making my bad day better!!"

Mari Behling

Jul 03, 2020 – Loves Park, IL
"Jim and the crew always take great care of my viechales. "

Clark Nelson

Jun 25, 2020 – Rockford, IL
"Another fine job done by the Tuffy crew. Thank-you for taking care of my car for me. Your service & your customer service was excellent, (AS USUAL) THANKS again"

Dale G

Jun 05, 2020 – , IL
"Finding a good and trustworthy mechanic is like finding a good dentist or financial advisor. I trust the folks at Tuffy."

Pat g

May 05, 2020 – poplar grove, IL
" Superior service! was able to get an appointment very next day that I called. Due to the Covid-19 virus they followed the safety procedures and provided me with a ride home so that I would not have to wait in facility all day, The brought me back to the facility and informed me that they needed to keep my car for further diagnostics until following day and provided me with a loan car so that I wold not have to disrupt my work schedule, Their services are affordable and excellent. II had been taking my car to the dealership, but they were not able to provide me with my own transportation which is very important as a single working woman. I will be returning for future automotive needs. Thanks to all the service team! "

Lynn Pollock

Apr 18, 2020 – Rockford, IL
"I had an amazing experience customer service is out of this world mechanics know exactly what they're doing there a hundred percent honest with you no BS shawn and ken are the best thank you thank you "

Elizabeth S

Apr 10, 2020 – Rockford, IL
"Above average service, quality and integrity, and i have high standards. Jim runs a great shop and they are friendly (full disclosure: I knew the owner personally before). I've been using this shop for all my car maintenance & repairs for years on all 3 of my cars. They don't rush, but take time to do the job right. What i like best is how they stand behind their work; if something goes wrong or a part fails during warranty, they fix it, without charge. They do their best to accommodate your schedule, and often a loaner is available for lengthy repair work, or they will give you a ride. I strongly recommend them."

Ken B

Jan 01, 2020 – Rockford, IL
"Very nice people shawn really help me out"

Alfonzo

Aug 24, 2019 – Rockford, IL
"I called and made a appt and I am glad I did. 1st I had a problem with my dash light was on and cruise control wasn't working. They were very professional and took their time telling me what the problem was as well as other thing's they saw. I am Definitely Coming back for service. They met all my need's and very affordable. 5 Star's from me, Thank's Greg"

Greg

Aug 17, 2019 – Rockford, IL
"Always right on the diagnosis, great on the price and customer service. "

Lyn C

Jun 10, 2019 – Rockford, IL
"These guys are awesome! Jim is a very nice guy and helps me with my moms car since I live 2 hours away. He calls to explain what it needs and assists with her getting from their facility back home and to pick her car back up when it's done. This is important to me since I am too far away to help her myself. This is the place I will have my mom take her car for repairs and service. "

TINA P

Mar 08, 2019 – VILLA PARK , IL
"Very pleasant experience. Starting with Sue she was a true professional. Busy morning and all accommodations were made for my day, including a ride back to my home. I would recommend and to anyone and plan on returning when ever I need repairs. "

Boyd S

Feb 17, 2019 – Loves Park, IL
"Tuffys you are amazing as usual! Special thanks to Jim for telling me about the.90 days same as cash deal! It helped me be able to get all my brakes done that I desperately needed done. You are all so caring and always wanting to help to make sure my car is up to par. See you next time."

Melisa W

Feb 07, 2019 – Rockford, IL
"Work done fast and correct . Nice people had a little hiccup with brakes following day. Still great serviced and on the way "

Jack H

Nov 30, 2018 – Cherry Valley, IL
"Great service. Would especially like to thank Sue for going out of her way to help! We will be back!"

Margaret S

Oct 29, 2018 – Belvidere , IL
"Good service "

Nancy M

Oct 17, 2018 – Rockford , IL
"Great & friendly service. Love the convenience of the loaner car. "

Alicia V

Sep 16, 2018 – Loves Park, IL
"I took my car to Tuffy for the 1st time. It was an excellent experience from beginning to end! The staff is kind and very informative. They went above and beyond by finding me coupons to get the price down. The loaner car was a huge blessing, they warranty their work AND give roadside assistance for a year! We have found our new auto shop!"

Teresa K

Aug 01, 2018 – Loves Park , IL
"excellent service"

John D

Jul 13, 2018 – Rockford, IL
"I took my car into Tuffys for the first time last week. They were amazing!! Great service and the mechanic was so knowledgeable about the problem with my car. I will definitely be going back again when I need to. Many thanks to Ken, Jim Sue and Justin for having me have such a great experience "

Sue B

Jul 09, 2018 – Rockford, IL
"I BELIEVE THE SMILES AND CHEERFULNESS OF GINA WILL BE MISSED. I KNOW I WILL MISS HER. I AM HAPPY WITH MY SERVICES WITH TUFFY. "

PEGGY M

Jul 02, 2018 – ROCKFORD, IL
"Friendly, knowledgeable staff. Service was excellent. "

Amanda J

Jun 18, 2018 – Rockford , IL
"WE LOVE TUFFY ROCKFORD (Well, really Loves Park). From their excellent big dollar item service to their routine maintenance items, our whole family comes here. Be sure to check for discount coupons and have a laugh with Jim, Gina, or Danette while you are waiting. I even heard that they worry about the shop while on vacation. I used to do that, Jim. Focus on the fun with your kids!!! 😊 Seriously wonderful place. Arlene (Marty). "

Arlene Z

Jun 16, 2018 – Loves Park , IL
"Prompt, friendly service! They are very accommodating, as well. I have experienced this quality of service for 3 years. I'd recommend this location to anyone who asked. "

Mary D

Jun 13, 2018 – Rockford , IL
"Prompt, friendly service! They are extremely accommodating. I highly recommend this location. "

Mary D

Jun 13, 2018 – Rockford , IL
"I'm very pleased with the service, I love you have a shuttle to give me a ride to work while my vehicle is being serviced! Everyone is very friendly! I have given your information to my 3 kids to transfer their service to Tuffy as well👍"

Paula M

Jun 05, 2018 – Davis Junction , IL
"My car is a 2003, but using Tuffy for all my "wellness visits" and maintenance, my car should last another 15 years! They truly stand behind their "Done right, period" motto. "

Paula O

Jun 05, 2018 – Rockford, IL
"TEST TEST "

KEVIN STEELAND

May 23, 2018 – MOUNT PLEASANT, SC
"Best service ever!!!!! They always take great care of me!!!!"

Beth T

Apr 13, 2018 – Rockford, IL
"The best all around auto service center our entire family has ever used. They back up all their work as well."

Arlene Z

Apr 13, 2018 – Loves Park, IL
"Take care of your car like it's one of their owns. Highly recommend for the best service. "

Xavier N

Apr 12, 2018 – Rockford, IL
"Tuffy's is one of the best automotive services I've ever been to I recommend Tuffy's to all my friends especially the 3 oil changes for 60 dollars."

Jamal B

Apr 04, 2018 – Rockford, IL
"I came out of work to a puddle of coolant under my car. F&F on Riverside recommended Tuffy and when I got there, they were so accommodating and friendly. Major repairs and I couldn't drive my car home. They took me out and under my car to SHOW me the problem! They actually took the part off the car and went to their supplier after getting the wrong part in twice! They gave me a loaner and have an awesome payment plan. Kind, respectful, courteous employees, all of them! I have found my new mechanics!!"

Cindy L

Apr 04, 2018 – Byron, IL
"Excellent service for my car, they even give me a ride to my work. Great Job"

adrian

Mar 21, 2018 – rockford, IL
"Neat, clean, honest and timely. Oh...and knowledgable What else could I want."

terry M

Mar 15, 2018 – Rockford, IL
"Tuffy has worked on our van through various minimal and serious jobs. They have always been patient and explained everything that needs to be done and that they are doing, every step of the way. They have also taken the vehicle back in and check it a second time when something just didn't seem right after a job. And they enjoy having and are accepting of our three young children when we have had to bring them with us for a "sit and wait for it" job. WE LOVE TUFFY!!!"

Lydia Q

Mar 06, 2018 – Rockford, IL
"The initial phone call brought me in, Jim had excellent customer service and did his best when answering my questions. Major points for bringing the customer into the store. I had my work done on Saturday, I was recommended to bring my car in first thing due to how busy Saturday's tend to be, the waiting wasn't an issue the work had to be done this weekend. Justin handled my vehicle, and was VERY knowledgeable about every little detail and answered all of my questions I had. I really appreciated his help through my visit there. I plan to come back and request Justin to work on my vehicle with the other issues I would like to get worked on my vehicle, along with routine oil changes. The only small issue I had was a fuse blew sometime after installing the new battery, I feel like this could have been checked prior to me leaving with the vehicle, Not a big deal though. Only reason not a 5-star rating. I considered going across the street to Velasquez prior to going to Tuffy, I'm glad I made the choice of going to Tuffy. "

Alek J

Mar 05, 2018 – Loves Park, IL
"WAS A REFERRAL TO GO AND GET MY OIL CHANGED & TO GET A FEEL FOR THE PLACE AS TO ANY OTHER WORK THAT I MAY BE WANTING. WAS PLEASED WITH THE SERVICE AND THROUGHNESS. SHUTTLE WAS ALSO NEEDED AND GREAT SERVICE. "

PEGGY M

Mar 05, 2018 – ROCKFORD, IL
"First time there. I was surprise they had coffee and snacks, for a small shop. The cashier greet me with a nice smile and was very polite."

Harold L

Mar 04, 2018 – Crystal Lake, IL
"I first tried Tuffys back in December 2016. My 2004 Mazda 6 basically blew up. They made it like new, I get 22mpg in the city. It seemed (and stll does) like new. Fast forward to this week. My car became possessed. Turn signals, fog lights? The windshield wipers started running. Again a terrific experience. From shuttle service to repair. Thanks!"

Randall R

Mar 02, 2018 – Rockford, IL
"My infiniti qx4 had the check engine light on. It turned out that it was overdue for a tune up. They replaced the coil packs with new parts and the vehicle now performs much better. One part came in obviously used, they told me they won't use it and will wait another day to get a new part. They have integrity and do great work."

Jordan Towne

Feb 11, 2018 – Rockton, IL
"Tuffy always does great work for us. The staff is friendly and knowledgeable. We will only bring our vehicles here!"

Sarah K

Jan 25, 2018 – Poplar Grove, IL
"Ladies of Rockford Loves Park and surrounding areas this is where you can go to have your car inspected for free and repaired knowing that they have been honest with you. Today there was a horrible noise in my car they inspected it for free told me exactly what it was and then further told me they inspected a couple of other things and that my battery had a dead cell which in this weather is a lifesaver they told me to go where I bought my battery though and have it replaced for free where my warranty was instead of them how's that for honesty. I was able to drop my car with them receive a courtesy ride back to my job then told I owe them nothing for my wonderful customer service today... I highly recommend them to you gentlemen as well!"

Tammy K

Jan 11, 2018 – Rockford, IL
"I have had Tuffy's service and repair both of our vehicles. The repairs are explained well and the prices are reasonable. "

Ron F

Jan 09, 2018 – Rockford, IL
"Everyone we came in contact with from Tuffys was responsible, courteous, and professional."

Rich P

Dec 06, 2017 – Loves Park, IL
"I was travelling and remarked fluid spill when leaving a hotel. I went to Tuffy which had serviced well another car for me. They received me very well, and although busy, checked out my car, giving me a written estimate for repairs. They assured me that I could continue to travel with precaution. The car has since been repaired and runs great. Their waiting room with free Wi-Fi is comfortable and convenient, and their other conveniences appreciated. I give a hearty recommendation to this shop which treats people right and knows cars well. "

Paul S

Dec 05, 2017 – Signal Mountain, TN
"I have been a very happy customer at Tuffy Tire and Auto Service over the past few years. I have found them to be extremely honest and insightful regarding my auto repair needs. They consistently go above and beyond all my expectations often identifying ways to save money. They're helpful attitude, spot on diagnostics and repairs, and affordable prices make them the ONLY place to go for all your automotive needs! Thanks TUFFY!!!!"

Todd T

Nov 23, 2017 – Loves Park, IL
"They did a great job especially since they squeezed me in at 2PM for an oil change...on a Saturday! they shuttled me home and called when I was ready! GREAT JOB to everyone!!!"

Bill Wylonis

Nov 20, 2017 – Marengo, IL
"Amazing service! The people here are just one of a kind and I appreciate every one of them. It seems they have the family business figured out and welcome each customer as part of the family. You won't be disappointed!"

Chris R

Nov 03, 2017 – West Orange, IL
"I've been with Jim and Danette from the beginning. They and their staff have provided 8 years of honest service for the safety of me and my family. I wouldn't go anywhere else! They are the BEST all around!"

Melanie T

Oct 04, 2017 – Rockford, IL
"I was looking for a reliable mechanic to work on my vehicle because the place where I was taking my old vehicle gave me the run around about having to do things to my vehicle that was not necessary. Needless to say I didn't do what they told me had to be done, however what I did do was I took in an itemized list of 3 specific things that needed to be done to my vehicle and the mechanic at Tuffy's looked at my list and said "I will look over your vehicle at these specific things" the mechanic came back to me and said "these things do not need to be done" and he proved it to me by taking me out to my vehicle and explaining it to me. I will continue my business at Tuffy's because they are so very honest with me every time."

Michelle S

Sep 20, 2017 – Rockford, IL
"As always, great, great service. It is my home away from home. I am always greeted with a smile and handshake. Everyone that I have contact with treats me with great respect and care. I couldn't ask for a better service facility. Thanks guys!!! Love you, Rich"

Richard K

Aug 18, 2017 – Davis, IL
"My long time mechanic moved and was left to find another reliable, dependent, and honest mechanic. I found Tuffy and breathed a huge sigh of relief. To be honest, I find Tuffy's mechanics more knowledgeable and professional than my former mechanic's workers. It is a great feeling to know Tuffy is there right around the corner and knowing my car is in good capable hand of professionals regardless the issues. Keep up the good works in the garage guys. Bless them. "

Frank McDonough J

Aug 04, 2017 – Loves Park, IL
"I've been taking my vehicle to Tuffy on Riverside for more than 2 years. I wish I would have known about them sooner! Jim and his crew are very kind, helpful, and most importantly, knowledgeable when it comes to automotive needs. They provide a shuttle service if needed; and for more lengthy repairs, they will provide a loaner car free of charge. They are one of the busiest mechanic shops in the area, so sometimes the wait is longer than what I'd want or expect; but in all, the service provided is worth the wait. From my personal research, their repair costs are very competitive and even less than the competition. If you have any mechanical needs for your vehicle, take it to Tuffy; you won't be sorry. And if time is an issue, call first and make an appointment. They'll take good care of you!"

Joyce A

Jul 31, 2017 – Machesney Park, IL
"My car had to be towed to Tuffys at night at I received a phone call very early in the morning. Everything was explained and my car was fixed by early afternoon and ready to go. I also appreciate being able to finance car repairs. "

Cindy J

Jul 29, 2017 – Loves Park, IL
"Ken and Gina are super awesome very professional and friendly and great service I would recommend Tuffy to everyone please contact them for appointment always super busy but it shows what they do everyone love there services. Thank ken,Gina "

Bridgette Traylor

Jul 13, 2017 – Rockford, IL
""

Bridgette Traylor

Jul 13, 2017 – Rockford, IL
"I would like to thank Tuffy for all of their hard work. Special thanks to Justin for going above and beyond working with the warranty company and to Jacob for finding what Lou Bachrodt missed and solving the real problem!! You guys are the best!! You have a life long customer and I will be sure to recommend you. "

Jennifer A

Jun 24, 2017 – Loves Park, IL
"These guys are great. Everything they told me they would do they did and they did it in the time they said it would get done. I was very happy with their work. They also provide loaner cars while the work is being done for only the price of the gas you use."

Patrick O

May 02, 2017 – Rockford, IL
"Went to Tuffy Auto Service today as a first time customer. Found the owner and employees very warm and friendly. They did a great job of identifying things that needed to be fixed on my SUV and not once did I feel any pressure from them to fix any of things they brought to my attention. I appreciated being taken to my SUV while still on the rack and shown first hand the problem areas. And thanks for the free shuttle service, really came in handy when there is only one car in the family. Great job guys! "

Pastor Scott M

Apr 07, 2017 – Rockford, IL
"Great service, great people . I thought the price for the work was good. I feel like I am driving a new car. Thank you "

adrian v

Apr 04, 2017 – rockford, IL
"Jim and his staff are top notch. It is so hard to find an honest and qualified repair shop. I am so happy I found them and have been a loyal customer for the last 6 years. A+ all around. "

Tom K

Feb 25, 2017 – Poplar Grove, IL
"After thinking I needed air in my tire I stopped at Tuffy. Come to find out there was a screw in my tire and it was unrepairable. They were very nice and squeezed me in to replace my tire. I was back on the road in no time at all. Thank you Tuffy for taking the time to help me without an appointment. "

Rhonda C

Feb 24, 2017 – Caledonia, IL
"After thinking I needed air in my tire I stopped at Tuffy. Come to find out there was a screw in my tire and it was unrepairable. They were very nice and squeezed me in to replace my tire. I was back on the road in no time at all. Thank you Tuffy for taking the time to help me without an appointment. "

Rhonda C

Feb 24, 2017 – Caledonia, IL
"Have brought my old cars in many times. Tuffy is always able to fix the problem quickly and I have never had to take the cars back for the same problem. Great Service!"

John O

Feb 19, 2017 – Rockford, IL
"This is a follow up to an earlier review. Once Tuffy's learned of the problem I was having with the Tire Pressure Monitoring System (TPMS) on my Honda, everyone at Tuffy's, especially Jim and Justin, went above and beyond in isolating and fixing the problem. They went so far as to not even charging me for the bad sensor they had to replace. They did everything they could to make sure the problem was fixed and that I was happy. Just want to say thanks to them for going above and beyond to make sure I was satisfied."

Tom p

Feb 15, 2017 – Loves Park, IL
"Prior to my latest trip to Tuffy'sI would have given a rating of 5 because in the past I have been very pleased with there service. This time I had tires put on and in the process of changing the tires they broke a Tire Pressure Monitor on one of the wheels. They had to wait to get another one to finish. The next day the Tire Pressure Monitor System (TPMS) warning light came on and stayed on. According to my owner's manual this has to be checked out immediately so now I have to take my car to the Honda dealer to find out what's wrong."

Tom P

Feb 11, 2017 – Loves Park, IL
"Wish I could give more than 5 stars. Everyone is friendly and helpful. I had huge issues with my warranty company and Tuffy's did an amazing job getting the company to work on my car. They were quick and professional. Helped me with everything I needed. They offered me great prices for great work. Worth every penny. When my second car needed to be in the shop at the same time they were quick and concerned that I had a car done asap! Will always come to Tuffy's when I need stuff done. "

Zach G

Feb 08, 2017 – Loves Park, IL
"I have been going to Tuffys for a number of years now. Every time I have one of our vehicles in we are ALWAYS treated with respect. All of the staff is very knowledgeable about the vehicles. I have always been pleased with the service we receive at Tuffys. "

Dale G

Jan 17, 2017 – Roscoe, IL
"Last April, I moved from Memphis, Tennessee to Loves Park. Noticing all the good reviews, my first oil change here was at Tuffy's. Friendly staff and quick service were appreciated. But it was in November that they really came through for me... my car seized on I-90 one evening. I had it towed to Tuffy's and called them to explain about my after-hours drop off. I have no other vehicle, so speed of service was key. Not only did they get the parts needed to repair it THAT SAME DAY, but they also did a bumper to bumper inspection to make sure my vehicle was ready for its first brutal winter here. I expected to pay for the belt replacement (that caused car seizure), oil change, transmission flush, and alignment. When all was said and done, I was told I didn't need an alignment and could wait for the transmission flush if needed. Though I opted to service transmission anyway, I really appreciate that they didn't try to take advantage of a single woman who was new to area and was offering upfront to pay for more work than was needed. It would've been SO EASY for them to do that, but they didn't. They've earned my trust and loyalty, that's for sure. If I had to choose one word to describe (my impression of) their business culture, it would be "integrity". Go to Tuffy's. You won't be sorry. Integrity."

Dawn T.

Jan 07, 2017 – Loves Park, IL
"ONLY PLACE TO TRUST WITH YOUR VEHICLE. ONE TIME SPOUSE WAS GOING TO GET AN OIL CHANGE WILLY NILLY, NO WAY, IT'S TUFFY'S OR NO OIL CHANGE. BEST PLACE FOR ALL REPAIRS. I RECOMMEND THIS PLACE TO EVERYBODY LORI SMITH ROCKTON, IL"

LORI K

Jan 02, 2017 – SMITH, IL
"Jim has been working on my cars for years. I have always found him to be honest, thorough and very professional. With the crew he has now, they are a very experienced and thorough. The addition of Greg at the counter is an added bonus. I brought my car there from Chicago, just so I knew the job would be handled properly. Kudos to you all. Thank you."

Violet V

Nov 06, 2016 – Elmwood park, IL
"I have been bringing vehicles to Tuffy of Rockford for several years. They are always professional, diligent and honest. They perform thorough inspections, let you know what you NEED, what you MIGHT need, and what might help without pressuring you to do "extra" work (and they let you know when something is a safety issue that absolutely has to get done). Plus, their customer service goes above and beyond to help their customers."

John H

Oct 25, 2016 – Caledonia, IL
"Tuffy's staff is always professional and courteous. I have had a wonderful experience every time that I have been there for car maintenance and repairs. "

Mariah G

Oct 21, 2016 – Rockford, IL
"N/A"

KeoOudom S

Oct 21, 2016 – Rockofrd, IL
"Tuffy Rockford never pressures me and the variety of payment methods helps make an unexpected repair less painful. They also are great at providing rides back and forth to work or home. Just wish we could make oil change appointments on Saturdays!"

Tricia D

Oct 14, 2016 – Rockford, IL
"GREAT CUSTOMER SERVICES. EVERYONE IS SO NICE HERE."

STEVE L

Oct 12, 2016 – ROCKFORD, IL
"Everyone here is polite and works to take care of you while you wait. They let you know of any additional problems they find as well"

jacob s

Oct 12, 2016 – Rockford, IL
"WE HAVE BEEN DOING BUSINESS WITH TUFFY FOR WHILE NOW. THEY WORK HARD AT CUSTOMER SERVICE AND THEIR WORKMANSHIP. A BIG THANKS TO AL FOR GETTING IT DONE. BECAUSE OF THESE THINGS WE WILL CONTINUE TO BRING OUR CARS TO TUFFY. "

DON M

Oct 10, 2016 – Rockford, IL
"Staff were friendly! Justin was a GREAT HELP! Especially explaining the issues with my car. Great Customer service (first time customer)"

Ollie L

Oct 10, 2016 – Rockford, IL
"Tuffy Rockford has been reliable and fair as they've repaired our cars ever since they opened. The staff is very knowledgeable and friendly too! We trust their diagnosis and their work--which means we trust them to keep our family safe."

Ziyad S

Oct 10, 2016 – Rockford, IL
"Brought my car in right before it turned over to 200,000 miles...it was running rough and Tuffy and their staff got it running like new again in no time. Very professional and courteous staff. Would give 100 stars if I could"

Bobby I

Oct 10, 2016 – Roscoe, IL
"I have been bringing in both of our cars. The service is great. Gina & Greg are very helpful and very professional and friendly. The staff is always informative and very knowledgeable on the cars need. I am very, very pleased with the service. I wouldn't take our cars anywhere else. Also Justin is very good and helpful. Thanks for all your hard work and care. "

Richard F

Oct 10, 2016 – Davis, IL
"we've been coming here to receive oil changes for quite some time everyone is wonderful . They are very honest and trustworthy they really know what they are doing... most important this is a christian business--lets support our family :)"

john & alice w

Oct 08, 2016 – caledonia, IL
"Great customer service. Professional car service."

Dustin M

Oct 08, 2016 – Madison, WI
"Fast, friendly and very fair..."

BRENDAN B

Oct 08, 2016 – ROCKFORD, IL
"great service"

Steve Lamb D

Oct 07, 2016 – , IL
"have had a lot of work done here, they do great work, and they get to it fast"

Earnest A

Oct 07, 2016 – Poplar Grove, IL
"I always come here for service. As I have always been very pleased with the work and friendly personnel. They give the best service in town. That is why I always come here. Thank you. Mary"

Mary D

Oct 07, 2016 – Rockford, IL
"The service is always friendly! The staff knows how to make you feel comfortable with the situation you are in. They go out of their way to help you understand the issue and explain the best solution to get you back on the road for a long time. "

Keith B

Oct 06, 2016 – Montgomery, IL
"This is the best place to go in Rockford. I know the family and they are the greatest. Everyone I have talked to that has gone to Tuffy's loves them and states they do the best service. Highly recommend."

Stephanie B

Oct 06, 2016 – Rockton, IL
"I really appreciate you guys for taking care of my truck. You guys also have very good customer service.... And the service is excellent."

Melissa L

Oct 05, 2016 – Jack, IL
"We've been bringing our cars here for several years. We always get good and quick service."

julie h

Oct 05, 2016 – rockford, IL
"This shop rivals upscale dealer services in all respects, and at much less cost. VERY IMPRESSED with the required repairs. Additional inspection found critical items that would have resulted in additional work very soon. Not necessarily "upselling" A couple things were noted, but not performed. No customer pressure whatsoever. The customer services and extras are exceptional. The peace of mind is greatly appreciated.. "

Jerry W

Oct 05, 2016 – Chicago Suburbs, IL
"Two words... AWESOME SERVICE!!! From the moment I walked in I was greeted by a warm, genuine smile from Gina at the front counter. The auto repair estimate that I had bright with me from another repair shop was instantly beat by 10%! The thorough inspection that was done on my car was expertly explained to me by Justin and the repairs that were done exceeded my expectaion in quality and cost. Tuffy's staff and service are exceptional and I will never take my car anywhere else if it needs servicing. "

Robert J

Oct 04, 2016 – Loves Park, IL
"Always great service"

russell

Oct 04, 2016 – kilker, IL
"Tuffy is the place to come if you want to deal with awesome people who are honest and go out of their way to make sure you have a ride to and fro.. Thx guys and keep up the great work!!!L"

Jenise Lucas

Sep 29, 2016 – Loves Park, IL
"Great service! "

Ben M

Sep 29, 2016 – Rockford, IL
"Ever since I've got my car tuffys has been the only auto repair shop I've gone to. They have always taken very great care of me, very loving and warm staff as well. I do not trust going anywhere else I would 100% recommend anyone to take any car issues they have here. They do really care about their customers. You guys are the absolute best! "

Valmira Smelaj

Sep 29, 2016 – Rockford, IL
"Disclaimer: I haven't had service performed yet. I walked into this particular shop yesterday a wreck because the shop I trusted to work on my car failed me. I "lost" a large part of my exhaust system while pulling onto Tuffy's street. Every single person I met in this shop was wonderful to this crying, shaking mess. They picked up my errant part, looked over what the other shop had given me, told me they would beat the other quote, offered me a loaner car, and then gave me a chocolate chip cookie (because chocolate helps make so much better!). Thank you for being so kind & helpful!!!!"

Denise S

Sep 17, 2016 – Loves Park, IL
"I own a 2003 Honda CR-V, and take it to Tuffy for my regular maintenance. Well, my AC system finally gave out. Actually, my compressor exploded, sending lots of shrapnel into the evaporator system. The technicians flushed my system out 6 - 7 times, but were still getting particles. Decided it would be wise to replace the evaporator as well. I am so happy they take time and pay attention to all details of my repair. And, by the way, they also noticed the light bulb was burned out on my license plate. I won't take my vehicles any where else. Great personalized service and they truly care about their customers. "

Paula O

Aug 23, 2016 – Rockford, IL
"You guys are awesome. You take care of your customers. You look at the best interest of your customers. I don't trust my car to many people but you have earned my trust"

Shaun G

Mar 04, 2016 – Rockford, IL
"This place ROCKS. These people really go the extra mile!"

Susan P

Nov 19, 2015 – Rockford, IL
"First time here. Welcome and warm...unlike any service place I've been. They completely rock, what else can I say?"

Shawn C

Nov 05, 2015 – CHERRY VALLEY, IL
"I get my oil changes done here frequently and I have never had a problem. Staff is polite and very helpful."

Slobodan R

Oct 30, 2015 – Loves Park, IL
"On 30 May 2015, the ball joint on my teenage sons car went out. My roadside assistance recommended Tuffy's based on previous reviews. They fixed the car at a reasonbale price and quickly. "

Michael R.

Jun 01, 2015 – Fraley, TN
"Very courteous when arrived. Explained, showed what was wrong and cost. Extremely knowledgable about the car. Which is a Jaguar. Would recommend to anyone who wants it done right. No matter what kind of car you have."

Steven M

Apr 22, 2015 – Rockford, IL
"My 2012 Traverse needed an alternator. I coasted into Lou Bachrodt Chevrolet on Saturday morning and was told they couldn't look at it until Monday. I rented a car and returned to Milwaukee. On Monday morning I received a call telling me that it would cost over $1,400 dollars to replace it. So I called Tuffys in Rockford. They had the Traverse towed to their facility and replaced the alternator for $733 ...including the tow!! Honest and fast. You can tell the integrity of a company by how they treat you when you are not from the area. These guys could have taken advantage of us but instead treated us fairly. If you are in the Rockford area I would highly recommend them. Their work also carries a nationwide guarantee. "

Mark B

Mar 31, 2015 – HARTFORD, WI
"Best shop around. Fits my vehicles in and diagnoses problem promptly with reasonable prices. Family like atmosphere. Thank you Tuffy of Rockford"

Heidi S

Mar 09, 2015 – Loves Park, IL
"Just had my car repaired at Tuffys. The best auto service experience I have had in a long, long time. Everyone was helpful, courteous, way above and beyond the normal auto repair experience! Work done on time, kept me informed on exactly what was being done and the cost. Definitely go the extra mile for you. Highly recommended! Customer for life!"

Thomas J

Jan 13, 2015 – Loves Park, IL
"Just had my car serviced at Tuffys. Best sevice I've experienced in a long, long time! Repairs done on time, everyone was helpful, courteous, way above and beyond the normal auto repair experience! Highly recommended! Customer for life."

Thomas J

Jan 13, 2015 – Loves Park, IL
"Thorough, efficient, and friendly service often with the extra value of coupons. It is nice to drive away with the feeling of a job being well done."

Elroy B

Jan 07, 2015 – Machesney Park, IL
"Always quick, efficient, and friendly service!"

Elroy B

Jan 06, 2015 – Machesney Park, IL
"The warm, professional staff at Tuffy's really made me feel like my car was being well taken care of. I trusted their opinions of the work that was needed, and they did it in exactly the time frame that they promised me. Thank you Tuffy's!"

Dawn J

Jul 23, 2013 – Rockford, IL
"I have been living in Rockford for eight years and been in search of a good Auto Repair shop...Tuffys customer service as well as their work far exceeds my expectation, the entire experience was very pleasant, I will always take my vehicles there, and recommend others. The entire staff were great!"

Leonard S

Apr 25, 2013 – Rockford, IL
"I wish to describe my great satisfaction with the services provided by the Tuffy Auto Service Center. As a single female, I have unfortunately learned to be very skeptical of the things told me by automotive mechanics, particularly at service centers the size of Tuffy's. The first time I brought my vehicle to Tuffy for maintenance, I was as cynical, snippy, and closed-minded as I possibly could be. Despite my intentionally rude behavior, the entire staff at Tuffy remained pleasant and helpful. They took the time to explain every procedure to me, including showing me the specific parts on my vehicle – without being condescending to me. What's more, the skilled technicians at Tuffy's were able to fix a problem with my vehicle that my neither my previous mechanic nor the dealership itself was able to fix! When the services were completed, the price for all work was the least expensive I have ever paid in Rockford – and this, for a level of expertise, friendliness, and common sense that I have yet to find with any other automotive center. In addition, the waiting room provides a counter with snack cakes, fresh coffee, books and magazines, free WiFi (including a computer!), and television – they even offered me the remote control to the TV! I am completely satisfied with the work done at the Tuffy Auto Service Center. If you are reading this because you are looking for a trustworthy automotive center, I recommend the garage and technicians at Tuffy without reservation. "

Eva K

Feb 12, 2013 – Belvidere, IL
"I'm very careful about where I bring my car for service. I also do some repairs on my own. I needed my rear brakes done, and bought the parts to complete the job, but the weather prevented me from doing them. So, I brought my vehicle to Tuffy's. Jim treated me very professionally and stated "we are happy to have whatever work you don't want or can't complete on your own." They took the pads and rotors and had my brakes done in less than an hour, on a Saturday! Turns out they do better brake work than my dealer does. The dealer was installing brake parts without proper lubrication. Tuffy's did it right! Great lounge area with coffee, tea, and snacks. Also, in speaking with customers in the waiting area, I discovered they are all repeat customers. I think that sums it up well. "

Mike K

Feb 07, 2013 – Rockford, IL
"They are fantastic! "

Kirsten H

May 19, 2012 – Rockford, IL
"Outstanding from beginning to end. This place doesn't just repair cars, they really take care you! My Land Rover left me stranded about 90 miles from home. I wasn't familiar with any repair options in the area but found Tuffy's on my smart phone and called. I called them to get a feel for what they knew about Land Rovers and after the friendly and intelligent discussion felt comfortable taking a chance with them and had the tow truck take it there. The driver of the tow truck was local and he said I would be in good hands and was he ever right. While waiting for the diagnosis I observed how thoroughly and gently the owner reviewed repair options and recommendations with other customers in the waiting area without any pressure on them just to make sure they understood and were comfortable with what was to be done. Anyway, they quickly and expertly diagnosed the problem with a crank sensor on my vehicle and that's just where the great care and service began. They went out of their way to make sure I could find a rental car which happened to be very difficult as the buisness day was ending. The owner arranged for my transportation to the car rental agency and after they witnessed the rude treatment I received by the agency I found out they contacted the manager the next day on my behalf resulting in a full refund of my rental fee. And of course my truck was repaired as promised early the next day at a very fair and reasonable price. That's what I call taking care of their customers! As a service organization Tuffy's stands out like a light in the night in my book. If you want to deal with honest, intelligent people who know what they are doing and really care about you, go to Tuffy's."

Val S

May 11, 2012 – Lake Villa, IL
"This past week I took my wife's car in to have some nails taken out of the rear tire, and upon inspection of the car, it was discovered that the wheel bearings were in a very dangerous condition. Jim took the time to explain the issue to me, why it was dangerous, and also took me to the shop to show me the issue on my car. I greatly appreciate his honesty and dedication to informing customers about why certain repairs are necessary and also making sure that the vehicles he works on are safe to operate. His inspection and dedication could have saved me and my wife from a very bad situation! HIGHLY RECOMMEND TUFFYS ON RIVERSIDE!!! To top it all of he advised on coupons that I could use and him as well as the staff is always very friendly! Thank you so much Jim and Team!!"

Scott C

Apr 26, 2012 – Roscoe, IL
Show more